All CanSkate sessions are now full (spots remain for Advanced CanSkate),
for inquiries please email canskate.sackvilleskatingclub@gmail.com
Skate Canada's flagship program is CanSkate, a dynamic learn-to-skate program that focuses on fun, participation and basic skill development. Based on Sport Canada's Long-Term Athlete Development (LTAD) principles, CanSkate centres on physical literacy and the fundamental skills needed to take part in any ice sport or to skate as a recreational activity.
Action, movement and fun! Lessons are given in a group format with a coach-to-student ratio of a maximum 1:10. Skaters progress at their own rate and coaches make sessions active using teaching aids, upbeat music and a wide variety of activities that create a motivational environment and promote learning. Badges and ribbons are used to benchmark skaters' progress and other incentives reward effort and participation.
https://skatecanada.ca/canskate/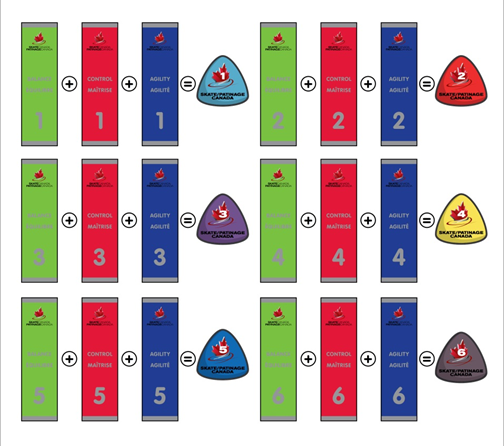 Common Questions
What should my child wear?
All skaters up to Stage 5 inclusive MUST wear a CSA approved hockey helmet. A cage is recommended for all skaters.
Bike, ski and skate/snowboarding helmets are NOT allowed.
Do not over dress for lessons, as the rink can be warm.
Mittens/gloves are needed on the ice. (Please no CHENILLE gloves)
Elbow and Kneepads are not necessary
What type of skates should I buy and how should they fit?
To ensure skaters enjoy and benefit from their lessons, skates should fit properly, provide strong ankle support, be tied tightly around the ankle and instep, and be sharpened.
Avoid plastic molded skates and do not remove picks from figure skates.
If you have questions regarding equipment please speak to one of our professional coaches.
Where do I watch my child's lesson?
Designated dressing rooms must be used. Do not use benches outside dressing rooms to put on or remove skates.
No parents are permitted in the players' benches or penalty box at any time. All parents are asked to observe from the stands.
All parents must remain in the rink for the duration of the skate lesson.
Under NO CIRCUMSTANCES are parents allowed to step foot on the ice during the Canskate session. This may result in your skater's immediate removal from the program.
If you have any questions please message: canskate.sackvilleskatingclub@gmail.com